In 1968 when they were scrapping all but one of the KM's, the Southern Pacific sold 10 complete trucks to Plasser & Theurer in Austria. Plasser built several enormous self-powered ballast cleaning machines using one truck under each end. One of those machines was recently discovered in Europe by the PLA 9010 team, and we have been offered the opportunity to acquire both trucks for the 9010. Acquisition of these parts would give us an honest chance to see the 9010 operating under its own power once again - - something considered impossible for over 40 years.


The ballast cleaner has been scrapped and the trucks are waiting.
The 9010 restoration team needs to move quickly.


| | |
| --- | --- |
| Help Us Turn This | Into This! |
| | |
With This!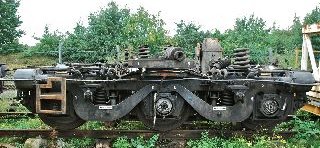 Please consider donating to the effort to get the trucks back to the US and installed under the 9010. Funds collected over the price of the truck and its shipping will be applied to the expenses of installing the truck under the 9010 and making the locomotive operational.
The Paypal Donate button is ready and waiting for your click.
Five dollars or a thousand, it's your help that brings these trucks home!

The Pacific Locomotive Association is a IRS Code 501(c)(3) non-profit charitable organization. Our Federal Tax ID is 94-6130878 and our California State # is 0501445. If you cannot donate via Paypal, please send your check to:

Pacific Locomotive Association
P.O. Box 515
Sunol, California
94586-0515
USA

Click HERE to continue to the web site.